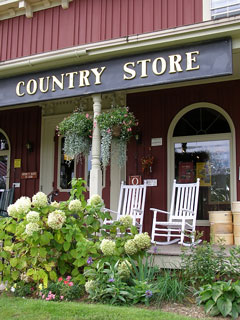 Many years ago, consumer products were categorized simply as hard goods and soft goods. The village general store stocked groceries plus a variety of general merchandise items including tools and hardware as well as fabrics and apparel. As the industrial revolution progressed, more and more consumer goods were invented, and retailers became more specialized. Today, national chain stores offer a plethora of consumer goods for every taste and budget. Superstores like Walmart attempt to cover the full range of consumer interests, while others focus in depth on a more limited range of products. Home Depot and Lowes focus on hardware, tools, and home improvement products. Target and Kohls offer clothing, apparel, and home decor items. Bed, Bath & Beyond and Linens-N-Things feature soft goods, housewares, and small appliances. Best Buy deals with consumer electronics and appliances, while Micro Center focuses on computer hardware and software.

All of the above retailers market their products online, but there are many online stores which specialize in particular product lines. You can find many of these vendors in shopping directories such as the BOTW Shopping and Services directory. This comprehensive directory features information about online shopping, retailing, and products that are typically sold to consumers or end users.

Because of the vast number of consumer items available, consumers often find it difficult to evaluate the quality of a specific product before buying it. Therefore, they may wish to read various articles and reviews before selecting and purchasing a product. Consumer Reports is a good subscription-based resource for consumer product reviews, and the Chosen Sites resources listed below feature information about selected products which are available in the USA.
---
Copyright © Pay Per Click Tools. All rights reserved.
Advertising for the Shopping and Retailing Industry