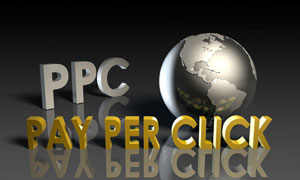 The return on investment (ROI) from pay-per-click (PPC) advertising varies greatly, depending on the products and services being advertised. Expensive goods and services in small niche markets may offer the best ROI for pay-per-click advertisers. Likewise, goods and services offered by brick-and-mortar retailers in local markets may offer their advertisers a good ROI. However, advertisers may have difficulty achieving a high ROI for low-margin products, like grocery items, that are seldom purchased online.

Pay-per-click ad "landing pages" are the web pages that a person sees upon clicking an ad. A landing page is usually designed to elicit a purchase or contact from the potential consumer or client. Generally, it is easiest to measure the PPC advertising ROI for products and services that are purchased online, and hardest to quantify the return on investment for products and services that are purchased offline. However, pay-per-click advertising can be very effective for generating both sales and leads, especially if the landing pages are well-designed.

The pages listed below highlight several industry categories and discuss the parameters for advertising products and services online in these industry markets. These pages also provide links to selected websites that focus on topics, products, and services in these markets.
---
Copyright © PayPerClickTools.com. All rights reserved.
Pay-Per-Click Advertising ROI